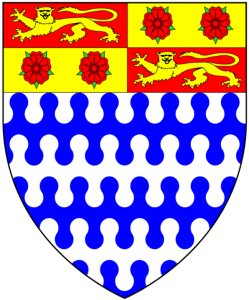 Die Company of Merchant Adventurers, London und der Bürgermeistertitel
Die Company of Merchant Adventurers war eine privilegierte englische Handelskompanie,eine der bedeutendsten englischen Tuchhandelskompanien des ausgehenden Mittelalters.
Im Alter von 18 Jahren lassen Sie sich in London nieder, um im Nord und Ostseeraum Handel zu treiben. Die Zeiten sind unruhig. Der König von Dänemark, Waldemar der IV., ist dabei, seinen bankrotten Staat wieder in Ordnung zu bringen, und England ist mit den hanseatischen Vorrechten unzufrieden.
Stoff ist in England ein wichtiges Handelsgut. Es wird von den Merchant Adventurers auf den Kontinent exportiert und dort veredelt.
Aber London, der Sitz der Merchant Adventurers, ist nicht nur eine blühende Handelsstadt, sondern hat auch einen begehrten Bürgermeistersessel. Und den gilt es zu erklimmen. Man muss ein guter Kaufmann werden, um Einfluss in den verschiedenen Bünden, Gemeinschaften und Kreisen der Merchant Adventurers zu gewinnen. Nur über diesen Weg wird der Bürgermeistertitel erreicht. Doch es gibt viele Gefahren. Da ist der erwähnte dänische König und nicht zuletzt andere neidische Kaufleute aus Lübeck, die einen in Händel und böse Gefechte verwickeln können.